Any homeowner that prides himself or herself in being a savvy bargain-hunter will often attack the allowance budget in their contract with the fervor of a game show contestant on HGTV.  While it's a great thing to find those bargains and come in under budget, sometimes a lower price means a lower quality item.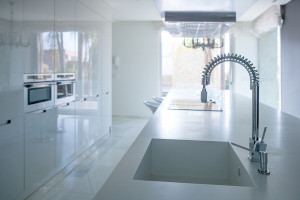 In regards to plumbing fixtures specifically, there is a longstanding debate about why box stores (such as Home Depot, Lowe's, etc.) charge so much less for their fixtures than plumbing supply houses (like Ferguson or Thos. Somerville).  I, like many others, assumed it was because the brands you commonly find there (think Kohler, Moen, Delta) make a cheaper fixture with plastic fittings for the products they market through the box stores in order to capture that market. After researching, though, I have come to the conclusion that this is only partially true.  All of the major manufacturers vehemently deny selling the same thing at another location with inferior parts.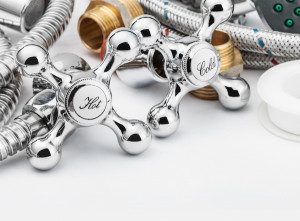 So, how do you go about purchasing a quality product? What it really boils down to is that, regardless of where you get it, you'd better know what it's made of.  My own experience with box stores has shown me that there are many "affordably priced" lower-end products there, as well as some high-quality products.  What you have to look out for are different gauges of metal used depending on the fixture; some faucets have a plastic drain assembly while others have metal; some fixtures have plastic guts while others use brass.  I'm sure you can figure out which ones will stand the test of time, but I learned a saying many years ago: "If you don't know your diamonds, you better know your jeweler".
There is a distinct advantage to going through your plumber, though: most plumbers will only guarantee fixtures purchased through plumbing supply houses. Furthermore, when it comes to purchasing, I'm inclined to listen to the advice of my plumber. After all, they've worked with fixtures of varying cost and quality, and can provide an opinion based on their experience. John Kruger of Plumbing & Heating Solutions of Maryland says, "One good reason to buy from the supply house is that most plumbers will guarantee fixtures they purchase there; they know they'll be backed by a supplier with whom they have a relationship." This is an assurance you are not as likely to get at a box store supplier (good luck trying to get a leaky faucet replaced 8 months later!).
If you happen to see the perfect shower valve for your master bathroom on www.faucetdirect.com (for example) but you're not sure if it's a quality choice, ask your contractor or plumber.  They have the advantage of seeing these brands tested over time and can advise you well.