Choosing fixtures, finishes and accessories can be the most fun and frustrating part of a construction project. Deciding on which paint color, sink faucet or tile you'll be living with "forever" can be daunting.
There are too many choices, and it all feels so final.
Instead of driving yourself crazy researching online and visiting countless bed and bath stores, consider hiring a decorator. Partnering with a decorator can take a lot of the stress out of the decision-making process. There are other benefits, too: a trained and talented eye for colors and finishes, access to the latest-and-greatest in design ideas and materials, and a resource doing all of that
legwork for you! So what else do decorators bring to the table?
They are skilled at figuring out your personal style. You may not be able to pinpoint what you like about a certain tile/faucet/paint color, but your decorator will be able to figure out your style and help to implement that throughout your home.
Decorators take your project to the next level. If you frequent Pinterest or have thumbed through a design magazine, you'll know what I mean. There is so much more to a new project than just piecing together painting and flooring. A decorator will know how to up the ante, making your finished product internet-worthy.
Perhaps most importantly, your decorator can narrow down choices. They'll develop a mental picture of what your finished project will look like, and help you with all of the necessary decisions along the way.
Angela Smith-Stokes, a Maryland designer, thinks that projects of any size can benefit from a decorator. "There are so many details, and countless decisions to be made. A decorator can help you define your project goals, work in tandem with your builder to ensure everyone is on the same page, and offer much-needed guidance along the way, leading to a more cohesive end result."
How Much?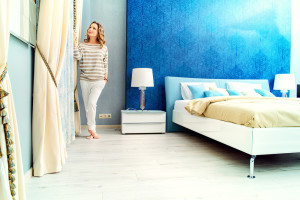 The all-too-important question: how much does hiring a decorator cost? The price-points vary greatly (anywhere from $40 – $400 an hour), which is why I recommend polling a few decorators in your area. Search online for local design firms and do an over-the-phone "interview" to ask questions.
The best way to find a decorator, though, may be through your builder. Many design-build firms have relationships with local decorators and bring them in on projects. Developing a relationship this way is ideal because the decorator has your builders' seal of approval and a history of collaborating on projects. Sometimes your decorator will even offer a discount on pricing if they're part of a "package deal" with the builder.
Bottom line? Finding a decorator who understands you, understands your style aesthetic, and can work within your budget goals not only makes your project more fun, but is sure to be a worthy investment in the finished product.