TECH TALK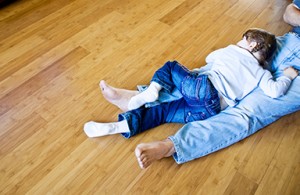 Funny thing regarding this topic: I already had this subject on the horizon for our blog when I recently had a client ask me which he should use for his new office addition.  Some of you reading this might not even be aware that there's such a thing as engineered hardwood, much less what advantages or disadvantages there are over traditional solid wood, so I'll briefly run it down for you.
First thing you should know is that both types of flooring are considered hardwood flooring.  When properly installed, both look equally amazing and undistinguishable, one from the other.  Here's where the differences lie.
SOLID HARDWOOD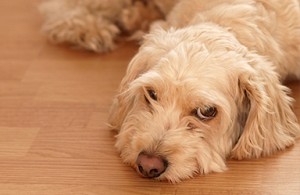 Solid hardwood planks are milled from the tree in one solid piece (so it's not just a clever name!) and with the pre-finished option, have a top coat of either aluminum oxide, ceramic, or acrylic.  If you ever found yourself having to refinish your floors (let's say, for example, you have a couple of huge, energetic dogs, or kids who like to play floor hockey), you can sand solid wood down at least a dozen times or more.  Solid wood will expand and contract a bit more than engineered wood and its installation requires nailing it to a wood subfloor.  You wouldn't use solid wood in basements or any subterranean level, and you never apply it to concrete.
ENGINEERED HARDWOOD
Engineered hardwood is made up of a top layer of hardwood called a veneer and a few layers of plywood or other substrates that are bonded together with heat and pressure.  This is similar to the way cabinets with "plywood boxes" are made.  Because of the fact that only the top layer is the good stuff, you'll only get away with a few sandings, so if you fall into the big-dogs/floor-hockey category, you'll want to go with the solid wood.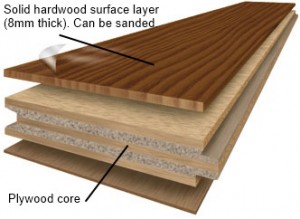 Engineered hardwood is less susceptible to moisture and humidity and as a result, expands and contracts less.  It can be installed over concrete (when using a moisture barrier between the plank and the concrete), and is preferred over solid wood for radiant floor heating.
One other great feature of engineered hardwood is the option of being installed as a "floating floor" which means that the tongue and groove planks are slotted into each other and not nailed or glued down to the subfloor.
So how do the two stack up in terms of cost?  Well, surprisingly, you will find a fluctuation in which sometimes one is more expensive and sometimes less.  For example, in my research, I went to Lumber Liquidators and depending on what special they're running, you can get certain engineered hardwoods for less than some solid woods, but a lot depends on wood species, availability, and frankly, whatever the vendor is trying to get rid of… not that that's a bad thing!