Remodeling Trends for 2016 and Beyond: Kitchens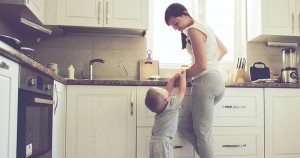 Hello, February! We've made it through the first month of 2016…and a mountain of snow. Now that the streets are clearing up and the kids are back to school, you may have time to think about that home improvement project you've been considering.
Today we're going to talk about some emerging trends for kitchen remodels in 2016 and beyond. When we say trends, we're not talking about a hot new design method that will fade out in 12 months (remember the short-lived glory of sponge-painted walls?). We're sharing a vision for where remodeling is headed and which colors, fixtures, and finishes are up and coming contenders for the future.
Here are some trends on the rise for your consideration as you plan your kitchen remodeling project.
Sustainable Products
"Sustainability" is a buzzword right now, and rightfully so. People across all different industries are trying to produce materials that minimize harm to our environment and make the best use of our natural resources. Solar panels, energy efficient appliances, and up-cycled finishes are taking their place in remodeled homes.
We love what Eco Friendly Flooring is doing with their recycled tile products. Beautiful, unique, and environmentally conscious.
Thin Countertops
Thin countertops are emerging as a popular look in kitchen remodels.
Detailed edges and thick granite are waning in favor of sleek, simplistic countertops and corners.
Integrated counters like this one are also on-point as kitchens become more streamlined and less superfluous.
Functionality
Another trend that is moving ahead in kitchen remodels is functionality. Little tricks like built-in knife drawers, pot fillers, and under-cabinet device holders (for hands-free recipe following!) make the kitchen work like a well-oiled machine.
One of our favorite function items? A dishwasher drawer. These small-scale dishwashers allow you to run a quick load of dishes on the fly and would be a great idea in a basement bar or on the kitchen island.
We hope these kitchen remodeling trends have inspired you today!!