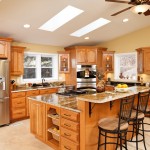 Kitchens: the hub of every home. We spend tons of time cooking, eating, talking, cleaning, again and again and again. Keeping your kitchen fresh – as well as taming that revolving door of clutter – requires some forethought.
Today we're sharing a few tips for updating your kitchen that will tackle everything from paint to paperwork.
Paint the Cabinets
This is a home improvement project you can accomplish in a weekend and make your kitchen look brand new. As long as the cabinets are in good shape you can sand, clean, and paint your way into a fresh and updated kitchen.
Paint the Floors
Don't believe it til you see it? My friend painted her old brick kitchen floors and it made a huge difference. This works particularly well on old hardwood that you don't want to refinish. You can also paint over ceramic tile, or update your grout by hand-painting the lines. Camila of Effortless Style Interiors has chronicled her floor-painting how-to's on her blog.
Swap out Countertops
Hire a contractor to change up your countertops. Your cabinets may be in great shape or look terrific after painting, but your countertops need updating. There are plenty of materials out there for counters that fit any budget. It's not granite-or-bust, either. Houzz has a ton of ideas for countertops made out of soapstone, stainless steel, and other innovative materials.
Replace old Hardware
Even though cabinet hardware seems insignificant, it can easily make your kitchen look outdated. Throw some new knobs and handles on there to change things up. We are loving these from Anthropologie: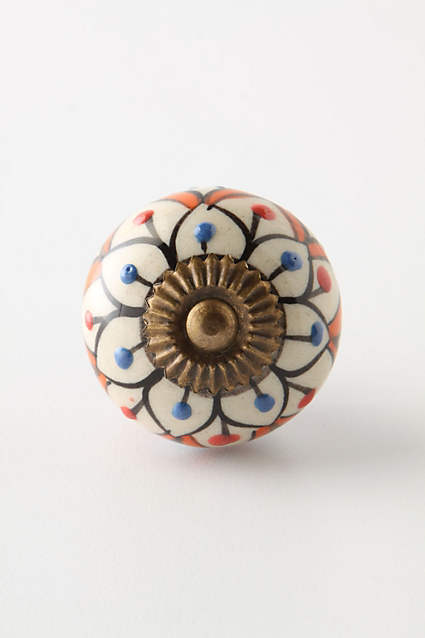 Update the Lighting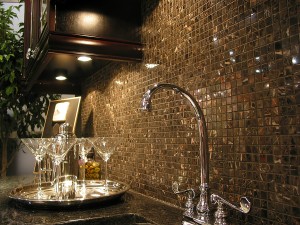 Still have that brassy "chandelier" hanging in your kitchen? Toss that throwback and grab an inexpensive but stylish lighting fixture. Keep it simple with this classic look or take it up a notch with a brushed nickel chandelier, both from Amazon.
You could also install some under-cabinet lighting on a dimmer switch. It's perfect for a soft glow in the evenings and also hides a multitude of imperfections during parties or family gatherings.
Tackle the Clutter
No matter how nice your kitchen is, it will be hard to make it look pulled-together if it's cluttered. Clean lines and counter space make a big statement to those coming into your home. How can you deal with the piles of papers, permission slips, and mail?
Our favorite idea? Find a builder who can put in a kitchen desk. Maybe you have extra counter space with nothing underneath. Or you could eliminate an extra closet and add a workspace. You will stay close at hand and have a place all your own.