Fun and unique looks for your bathroom
My friend recently added a new bathroom to her basement. Every inch of the remodeling project turned out perfectly – the lighting, the tiled floors, the textured walls and corner shower. But the showstopper? A custom-made vanity. This one piece played center-stage and made the entire project truly one-of-a-kind.
Today we're sharing a smattering of artsy and original bathroom vanities. Which is your favorite? (Seriously, we wanna know).
The Inspiration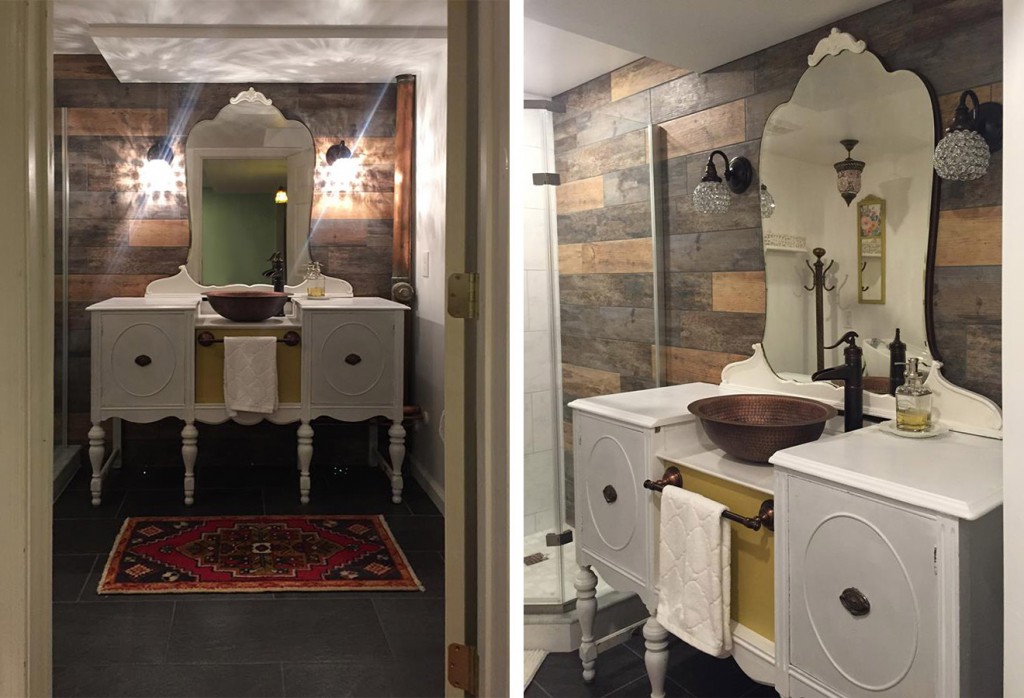 A second-hand piece (an old dresser, gifted by a friend) became the focal point in this new bathroom. Pieced together with a hammered bronze bowl and lit with perfectly-proportioned sconces, this vanity is a dream come true.
This remodel was completed by our friends at J.S. Remodeling, who specialize in kitchen and bathroom renovations. Love their work!
The Up-Cycle
This hanging-chunk-of-wood vanity brings back major childhood treehouse vibes. It's such a simplistic yet very cool style. Add a modernized faucet to keep it current.
The Bike Enthusiast
Love city living, or just a bicycle-buff? This vanity idea is just too fun. Put some hand towels in the basket and you're ready to roll. * I never get tired of bike puns…. :/
The Rustic Double
A large sink that serves two. A great way to maximize a smaller space without sacrificing efficiency!
The Barrel of Fun
For the wine or whiskey connoisseur: a floating barrel sink. We can't get enough of this clever idea. Perfect for a wine cellar, wet bar, or den bathroom, a standing barrel vanity would be outstanding as well. You can keep it classy with modern touches like a tile backsplash.
Which would you pick?