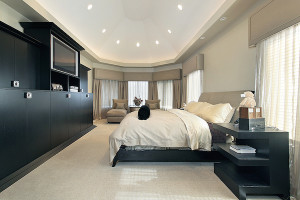 Whether we call it a master suite, owner's suite, or owner's bedroom, the fact remains that most of us want the room in which we spend a third of our lives to be a spectacular oasis.
While there are many different options when designing your perfect retreat, this post will focus on just a few of the essentials that lay the groundwork for a great space.
The Bathroom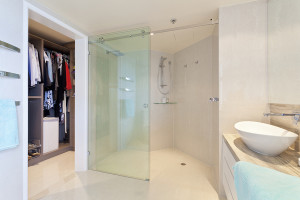 Let's be real here: if we spend a whopping one third of our lives in the bedroom, honorable mention in the "time" department must be given to the bathroom – and the bathroom feature that gets the most attention from all of my clients is the shower. A large, curbless shower with custom glass and soap niches fitted with LED lighting provide t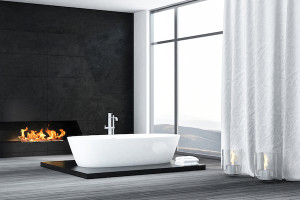 he perfect backdrop for a wonderful morning ritual. And when the pace of life slows down a little, what better to help you unwind than a long bath with the warmth and glow of a fireplace behind you.
Heated floors and towel racks ensure the mood is not lost as you step out of your bath or shower. Modern versions can be installed for a fraction of the cost of their predecessors and add a sophisticated touch to the bathroom.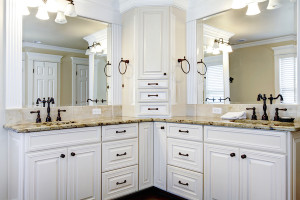 Vanities have come a long way  – today's bathrooms will often sport a double bowl vanity (ever try brushing your teeth at the same time as your partner?) with designer accents. Granite, marble and other solid surface tops make quite a statement and add a touch of luxury without breaking the bank. Don't forget to include extra cabinetry, which serves well as built-in linen and toiletry closets.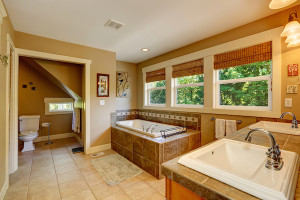 The final point of consideration for your bathroom, especially if sharing this oasis with a partner, is a separate water closet. These are the things we don't wan't to talk about, folks, but an exclusive room with nothing but a toilet and a door would add a layer of much-appreciated privacy.
Walk-in-closets – His…and Hers
His and Hers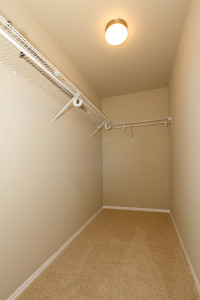 closet space is quite common in most modern homes and much can be done to customize the space to your specific needs. Built-in units with adjustable shelves, drawers, cubbies, and multiple tiers of hanging rods make these small spaces quite usable and efficient.