Kitchen Talk: Ovens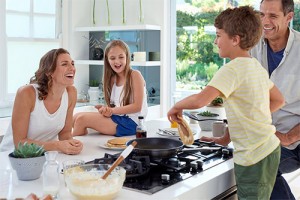 The Blizzard of 2016 did not disappoint, and it looks like another day or two inside is in the cards. The upside of being housebound during #snowzilla is that my wife and daughter are baking up a storm and — if the Facebook pics I'm seeing are any indication — you probably are, too.
For those considering a home remodel, the kitchen is usually a major part of the renovation. Cabinets and countertops usually top the list of things to think about, while ovens can something be a secondary thought. Today, I'm hoping to boost your excitement about ovens (yes, really) by discussing some of our favorite pics for all different types of cooks and kitchens.
Between shoveling sessions, we hope you'll pour that second cup and read on.
For the Party Host
Always the one hosting family functions and birthday parties? You've got to go with the double oven. You can make dinner and dessert at the same time and have room for potluck dishes brought by friends.
Price range here varies, as well as style. Wall ovens free up floor space and are usually used in tandem with a cooktop, while a freestanding oven may be more your style.
Home Advisor talks gas versus electric ovens here.
For the Busy Cook
An oven that acts as a refrigerator? The future is here thanks to TMIO, who has created a computer-based oven. This bad boy goes from cool-to-cook with the ability to start your dinner from the convenience of your cellphone.
These ovens aren't cheap (they cost upwards of $7,000), but could be just the thing for a professional on the go.
Looking for the same idea but without the hefty price tag? Check out this article on maximizing your ovens' delay start feature.
For the Serious Home Chef
If you're a pro in the kitchen (or just love creating courses instead of entrees) you may be more inclined to up the ante on your kitchen remodel by investing in a serious stove.
Viking is renowned for its high-quality ranges. With several different series to choose from, you can find a top-of-the-line oven that best suits you. They are also a one-stop-shop for customizing your own range, creating a one-of-a-kind product.
Wolf also makes amazing products and offers a favorite feature of mine, the infrared griddle. The griddle is the most-used cooking surface in my kitchen, allowing us to whip up full batches of pancakes, breakfast potatoes, and fried eggs in no time.
Whenever the time comes to remodel your kitchen, make sure you find the oven that is perfect for you. We hope we've helped give you some ideas today.
Happy cooking!!