Home for the Holidays
Houseguests
Part One of our series is all about houseguests. Read on to see our top picks for ways to update, redecorate, or remodel your home to better accommodate friends and family, no matter your budget.
Budget-Friendly Fix-Up
For a low-cost update that packs a big punch, consider installing a Murphy Bed. These fold-up beds create instant crash pads for your out-of-town guests (or your sister who had one-too-many glasses of wine with Christmas dinner) and take up barely any space at all. Pinterest is full of DIY ideas
that utilize IKEA hardware, making this idea doable for a few hundred dollars.
Savvy Spender
Even if you've got enough comfy couch space to host a soccer team, there's still one place that always leaves people waiting in line: the bathroom. Why not add a small bathroom to your basement? We're not talking custom tile and fancy tubs here. For our purposes, think more shower stalls (like this one from Home Depot) and modern-day linoleum. While this idea is a bit more of an investment, it is sure to be a remodeling decision you won't regret.
The Consummate Host/Hostess
Is your home the place to be? Are you always the one hosting parties and family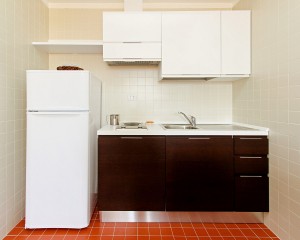 get-togethers? It may be worth your while to consider a more substantial remodel. A basement renovation is a great way to update your home and use its space more efficiently without completely emptying your savings account. You could combine our above ideas (like adding a few Murphy beds and installing a half-bath) with a small but efficient kitchenette. Our friends over at Houzz.com have some inspiring examples that are sure to get you thinking.
Your guests will have the utmost in privacy and convenience while still being in your home. You'll have more room in your kitchen to prepare those holiday meals everyone loves so much. Sounds like a win-win to us!