Home for the Holidays
Fireplaces and Mantels
This is Part Two of a new blog series this month, Home for the Holidays, where we share our ideas on how to make your home holiday-ready.
Today's post is all about sprucing up your fireplace or mantel for the holiday season. Don't have a fireplace? No problem! We've got a fix for that as well. Our tips for making your home cozy and bright will dull those winter blues in no time.
White Light  
Does your brick or stone fireplace surround need a touch-up? Paint it white! It's an inexpensive update with big payoff. Plus, white is the perfect backdrop for all of your holiday decorations. Accent the blank canvas with touches like hurricane glasses filled with tiny colored ornaments and strings of white lights. A mirror overtop the mantel and some well-placed white candles will look classic and beautiful.
Our friends at Houzz have a foolproof guideline you can read to determine whether painted brick is right for you.
Non-Fire Fix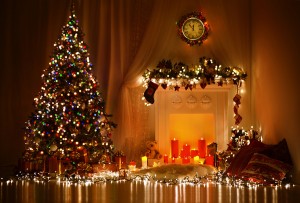 Have a non-working fireplace? Get creative and put it to good use. You can use chalkboard paint on a simple piece of cut plywood and fit it inside the opening. Write a holiday message for friends and family or leave a basket of chalk out for the kiddos to play with.
Another non-working fireplace solution? Place some different-sized candles on candlesticks and arrange inside for some seriously soft ambience.
No Fireplace? No Problem!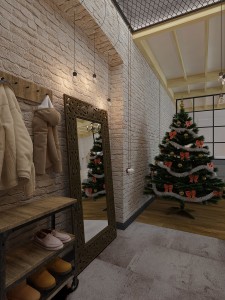 Even if you don't have a fireplace, you can still create a striking mantel with decorations to suit your space. Wayfair has some beautiful mantel shelves that would look terrific outfitted with mini-trees and wooden reindeer. You can also try making your own: these DIY mantels on Pinterest are perfectly cheery.
Another idea? Try placing a large mirror on the floor, leaning against a wall in your living room. Drape it in lights and put some poinsettias around it for a modern and festive look.
We hope these fireplace, mantel, and decoration suggestions give you some inspiration for making your home ready for the Holidays! If you missed Part One of our Home for the Holidays series, please check it out on our blog.