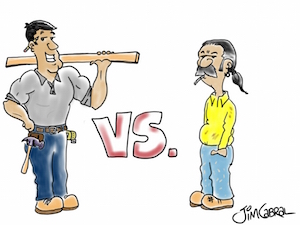 I'm sure you've heard this one before: I meet a potential new client who tells me about a bathroom remodel they had installed by a well-known, one-stop-shop; a "Box Store". You see, their cousin's next door neighbor hired said "Box Store" for their remodel the previous year and had stellar things to say. However, my potential client is standing in front of me feeling jaded and suspicious, because his experience was the polar-opposite of the cousin-neighbor. The box store didn't deliver – they earned a ZERO in the making-their-customer-happy department.
What changed? Why did Client one walk away ecstatic while the other was left feeling cold?
The difference came down to one major variable: subcontractors.
In my opinion, a company is only as good as the employees who represent it, and the use of quality subcontractors is no exception. You may love the general contracting firm you choose to manage your project, but be largely in the dark about the subs that may come through your door. And you know what? You should feel good about EVERY person who works in or around your home.
So, what's the story? How do you know if hiring a company that uses subcontractors is a great idea or an invitation for disaster?
Over the course of my 25 years in the general contracting field, I've worked with firms who rely on subcontractors for only parts of the project, while others may hire them to complete MOST of the work. So what separates the good from the not-so-good?
A good general contracting firm builds relationships with reliable subcontractors. Their standards for quality and professionalism are high, and they expect their subs to uphold them.
A good contracting firm hires well-vetted, well-established, and well-compensated professionals who take pride in their work. They don't pick a subcontractor based on the lowest price; as a matter of fact, a good contractor will look at "low-ball" estimates with a critical eye, ensuring that value isn't compromised.
Perhaps most importantly, a good contractor will treat their subs like they're a part of the team. Through consistent communication, accountability, and a team-effort mentality, contractors and their subs work fluidly to put forth their best effort on each phase of the project.
So, instead of asking your potential contractor "do you use subs?", ask "how do you decide which subcontractors to use?". Or, better yet, "how long have you been working with your team?". If they respond with the answers I've discussed here, you are likely in very good hands.
Having a highly-skilled subcontractor working on your home can make all the difference. Knowing the right questions to ask can ensure your satisfaction in the long run.